4oz and 6oz In-Stock and Ready To Ship in Black And White
Designed to Accomodate Stock CRCs
Matching 70mm CRC In Stock In Black And White
Low MOQs
O.Berk is excited to introduce a new line of plastic jars to showcase your strains. Featuring a wider profile and neck finish specifically designed to accommodate child-resistant closures, these jars make for a choice container for adult-use cannabis applications.
Our PET plastic jars are available in 4oz (3.5g), 6oz ( 5g), and 8oz (7g) sizes. All sizes feature a wide-mouth 70mm neck for easy filling and easier access to dry cannabis product and are designed to fit flush with 70mm child-resistant closures (CRC) for a sleeker profile.
The 4oz and 6oz wide-mouth size jars are available in our latest in-stock cannabis packaging line-up, in black and white for immediate or next-day shipment. Our 8oz is available in production stock also in black and white with lead times between 1 and 2 weeks. All sizes are available for custom colorization and can be blow-moulded in opaque, transparent or clear PET.
Application and Volume Matching
This package is well suited for product requiring child-resistant packaging to include medical and recreational dry cannabis flower, concentrates, edibles and topical applications. To better assist in your choice of container we have included conversation rates for common jar sizes for dry flower weight: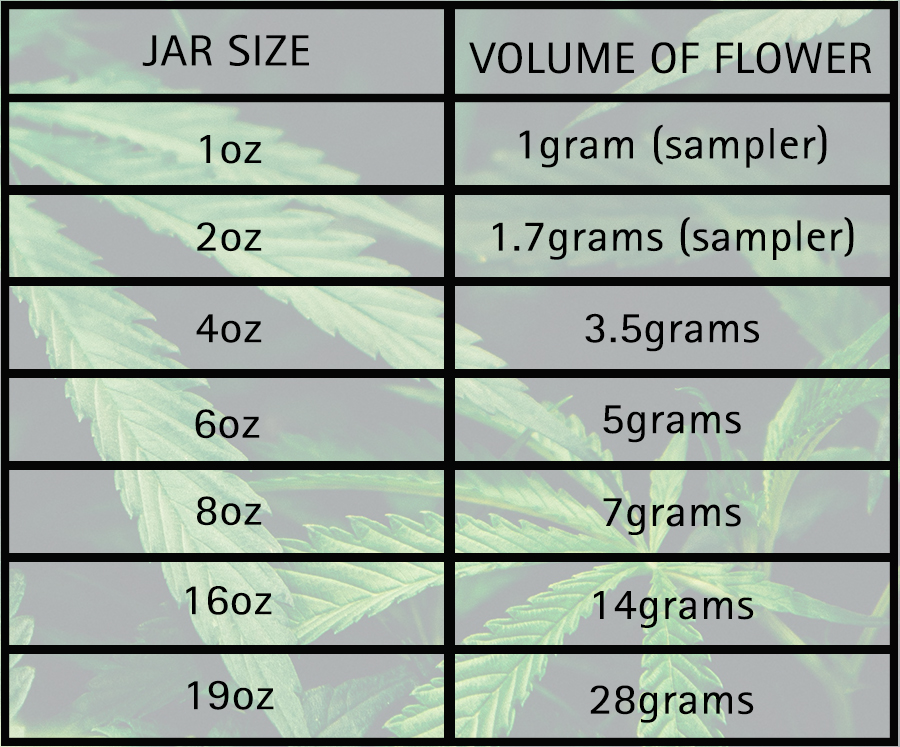 Our stock items are available for purchase in case quantities, decreasing the barriers of entry into the cannabis market. MOQs for our Production Stock jars are available 10,000 units. Contact us today or select the items below for more information and lets get your cannabis projection off the ground - how can we help?
LOCATIONS
CORPORATE OFFICE
3 MILLTOWN COURT
UNION, NJ 07083
(+1) 800 631 7392
O.BERK® OF NEW ENGLAND
300 CALLEGARI DRIVE
WEST HAVEN, CT 06516
(+1) 888 653 6657
O.BERK® | KOLS CONTAINERS
3101 WILMARCO DRIVE
BALTIMORE, MD 21223
(+1) 410 646 2300
FOLLOW US






HELP
CONTACT US
START A QUALITY CASE