Fun Family Recipes for the Cookie Jar!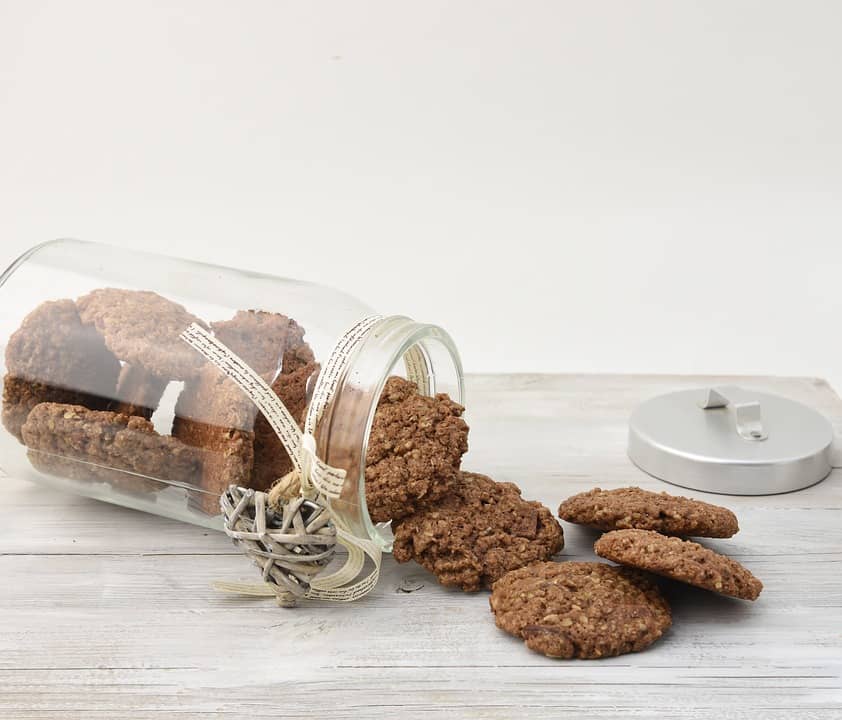 Fun Family Recipes for the Cookie Jar!
If you're looking for mouthwatering recipes to fill your cookie jar, you have plenty of options. Kids will especially love helping to bake (and eat) fun, easy, and colorful cookies. Classic cookie recipes are favorites for a reason, and every year, they are made again and again. But you can also branch out and make stunningly beautiful cookies, challenging and complex cookies, or cookies with unusual and unexpected flavors. It's also important to include everyone, even those who may have allergies or are otherwise diet-conscious; there are plenty of great cookie recipes for all sorts of specialized diets.
For the Family
Little fingers will love poking the candies into this sugar cookie. Other colorful candies like M&M's, jelly beans, gummy bears, or pastel nonpareil mints can be substituted depending on the season.
These cookies got their name because they are a five-ingredient monster of a cookie. Kids will love tossing the different goodies into the batter; the recipe is made even easier by starting with a ready-made cookie dough.
These are a popular family favorite. Jobs can be delegated to different family members, like rolling the dough into a ball and sticking the chocolate kiss on top.
These sugar cookies need no decoration, thanks to their bright colors. Three or four different food colors are recommended for the best results.
The family can make this one in an assembly line: One person can put down the graham cracker base, while one or two others can scoop and shape the dough and place it on top. Don't forget to let everyone have a turn pressing the chocolate pieces on top.
Classic
An old favorite for many, these cookies contain healthy oats, raisins, and nuts if desired.
Here is a standard recipe for this classic comfort dessert. Not much beats a warm chocolate chip cookie!
This cinnamon-y, soft, thick cookie is always a crowd-pleaser.
Cookie Jar Classics: Peanut Butter Cookies
Peanut butter cookies never go out of style, and they're easy to make.
To Impress
Chocolate Peanut Butter Fudge Bars
Not many can resist a chocolate and peanut butter combination, and this is a decadent cookie without the hassle of forming individual cookies.
A leaf cookie cutter and the edge of a knife can be used to create an aesthetically pleasing design. But even if you just cut them into squares, these cookies will taste great!
Everyone loves baklava! This cookie recipe greatly simplifies baklava by pairing the filling with packaged cookie dough.
From Drink to Dessert: Strawberry Daiquiri Cookies
These pretty pink cookies are eye-catching, and anyone can decorate them with simple lines of white chocolate on top. The rum flavor comes from only half a teaspoon of rum extract, but you can leave it out if you prefer.
These fancy cookies look lovely, and chances are good that no one at your cookie swap or potluck dinner will have baked the same cookie.
Healthy
Lemon Poppy Seed Cookies With Protein
With ingredients like lemon, coconut flour, and protein powder, this cookie sounds as healthy as a cookie can get. They come together for a sweet and chewy treat that's also gluten-free.
Kids will love the idea of eating cookies for breakfast, and you'll love that it has healthy ingredients like almond meal, dried coconut, and honey. It can be topped with pretty green pumpkin seeds and almonds for fiber and protein.
Paleo Strawberry Coconut Thumbprints
This recipe produces a pretty little cookie with a bright red strawberry center.
Different
Cardamom is a lovely, underappreciated spice that makes these cookies uniquely delicious.
Double Chocolate Avocado Cookies
It seems like avocado is all the rage these days, and this recipe uses them as a healthy fat instead of butter. All of the chocolate ensures that no one will ever know the secret ingredient.
Savory and sweet are a power couple, and these cookies provide a perfect mix of both with chocolate, caramel, bacon, and sea salt.
Kids and adults alike will love these colorful cookie/brownie bars. Chocolate chips, crème de menthe chocolates, brownie mix, and chocolate sandwich cookies are tossed in and topped with whatever colorful sprinkles are on hand.
Vegan
Here is a vegan way to enjoy a timeless classic. This recipe uses vegan margarine, an egg replacement, and dairy-free chocolate chips.
Vegan (and Gluten-Free!) Gingerbread Men
These gingerbread men are crispy, but there is also an option for a rounder, plumper, chewier version if desired.
Chocolate Chunk Vanilla Spice Cookies
This cookie is naturally vegan and doesn't require any special vegan substitutes. Some chocolate has dairy added, however, so care must be taken to find a vegan dark chocolate.
Easy Vegan Sandwich-Style Cookies
These beauties only require five ingredients. Suggested fillings include nut butter, chocolate peanut butter, banana slices, vegan ice cream, date caramel, or coconut cream.
Holiday
Cookie cutters and food coloring help make these festive cookies that your family can decorate together.
These "cakes" are really cookies! A fairly classic holiday cookie, these are powdery white, nutty, and crunchy. The recipe makes a generous three dozen cookies.
M&M's can be used in whatever the holiday colors are, making these great for any time of year.
Substitute pumpkin pie spice for the cloves to adapt these for a fall get-together. To keep kids busy, a gingerbread man cookie cutter can be used and fun, edible details added on top.